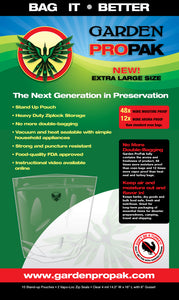 Garden ProPak — Extra Large
Regular price $34.00 Sale
The Next Generation in Preservation!
Stand up pouch
Heavy duty ziplock storage
Vacuum and heat sealable with simple household appliances
Strong and puncture resistant
Food-quality FDA approved
NO MORE DOUBLE-BAGGING:
Garden ProPak fully contains the aroma and freshness of the product; 48X more moisture proof than oven bags and 12X more vapor proof than heat seal and turkey bags.
KEEP AIR AND MOISTURE OUT AND FLAVOR IN:
Keeps herbs, dry goods, and bulk foods safe, fresh and nutritious. Great for long-term packaging of essential items for disaster preparedness, camping, travel and shipping.
100pak = $3.00 per bag | 50pak = $3.14 per bag | 25pak = $3.28 per bag | 10pak = $3.40 per bag