The first storage bag specifically designed to address the protection and preservation of perishable, high-value items.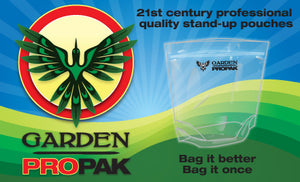 Preserve Freshness & Fragrance
Garden ProPaks can be heat sealed using common household appliances – without destroying the zipper!
Using only a vacuum cleaner hose adapter and a household iron, hair straightener, or hand held or impulse sealer, you can easily vacuum seal your items in a Garden ProPak.
Later, the convenient tear-off tab allows you to easily open the bag and even heat seal it again.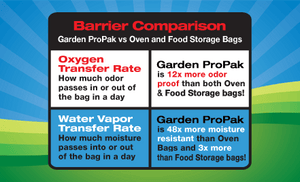 Garden ProPak vs Standard Oven Bags
Thanks to Garden ProPak's unique triple film laminate composition, you can look forward to:
• No more double, triple bagging
• No more loss of fragrance, flavor, color
• No more ties or knots
• No more spills
• No more awkward heat seal machines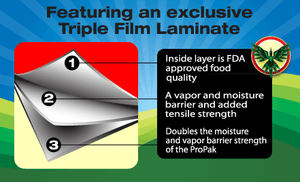 21st Century Triple Film Laminate
LAYER 1: Film is tough, strong and puncture resistance, flexible and protects against UV radiation. It is an FDA approved food quality film.
LAYER 2: Laminate seals layer 1 and provides an effective vapor and moisture barrier to maintain aromas and freshness.
LAYER 3: A high tech film that nearly doubles the vapor barrier properties of the pouch.
Testimonials
Seriously epic pouches. I was double and triple bagging things and it still smelled like a skunk. With the ProPaks I feel safe and my product stands out from the rest. You guys did it good.

Josh from Norcal
As a broker I will always choose the ProPak over the turkey bag. I dont need to tell you why do I? They cost more but why put an expensive product in a dollar bag? I like the professional vibe too.

Richard from NYC
I use your stand up pouches when I travel by plane for my cosmetics and shampoo and stuff. No more leaks, even if the bottle opens. and at home they are great in my pantry for bulk foods.

Maryann
I was stunned at what a difference these bags made. My product looked great and I was stoked how easy it was, no more knots and smell to deal with too. No more repackaging either from producer to consumer.

Ronnie from Santa Cruz
I live in the tropics and I am using your bags to store my tea, grains, dry food etc… Things actually stay fresh and do not mold out and when I open the bag everything smells fresh. I like that I can rinse them out and reuse them too!

Julia